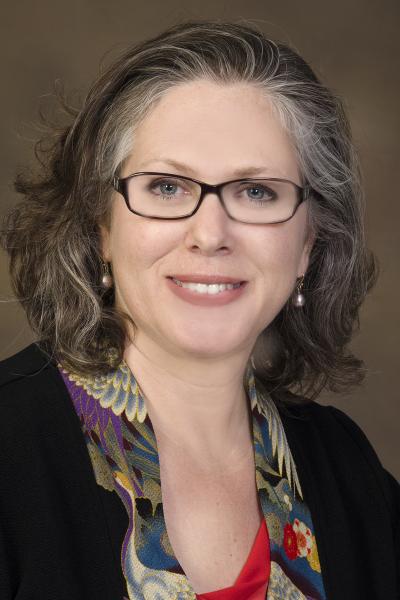 Director, Faculty Instructional Development
Curricular Affairs
---
As Director of Faculty Instructional Development, Dr. Spear-Ellinwood creates programs for educator development of faculty, fellows and residents at the University of Arizona College of Medicine Curricular Affairs (CA). She develops and implements curriculum for programs, recruits faculty and education professionals with relevant expertise to assist in residents as educators orientation.
Current programs and activities include the Residents as Educators (RAE) Program, Affiliate Clinical Educators (ACE) Program, Teaching with Technology (TWT) Series, AMES/CA Faculty Instructional Development (FID) Series, and the AMES/CA Education  Scholars Program.
Dr. Spear Ellinwood also is a  member of the Clinical Reasoning Course Team, co-directed by Paul St. John, PhD, and Alice Min, MD.  For this team, she designs and implements training and provides resources for CRC facilitators, assists in developing curriculum and assessments, and conducts studies on student reflections, the use of problem-solving tool, and other CRC issues.
Dr. Spear Ellinwood also designs and conducts workshops on the use of technology for teaching in various settings. Workshops include faculty from UAHS colleges. She also generates programming and durable materials to support office staff (SOS).
Faculty Appointment
Assistant Professor, Department of Obstetrics and Gynecology, Education Scholar Non-tenure Track
Committee Service
Dr. Spear Ellinwood is a member of the Dean's Council on Faculty Affairs, and Women in Academic Medicine and serves on the committee for the Medical Education Distinction Track, the Longitudinal Curriculum Committee in the Curriculum Redesign effort, and the IPEP Disabilities Committee. She also  provides support for other educational and policy committees in the College of Medicine. She is a member of AZCAT, a chartered working group that contributes to the overall educational mission of the College of Medicine.
Biosketch
Karen Spear Ellinwood is the Director of Faculty Instructional Development, and Assistant Professor, Department of Obstetrics & Gynecology, UA College of Medicine. She practiced law (primarily criminal defense) for 13 years before entering the education profession. Dr. Spear Ellinwood earned her JD from Brooklyn Law School (1986), following a bachelor's degree in Social Work (1982). She earned her PhD in education in 2011, and an Education Specialist (EdS) degree in bilingual education in 2003, from the University of Arizona College of Education. Karen also completed a Fiction Fellowship at CUNY Writers' Institute in 2010-11, and writes fiction and children's books in her spare time. Dr. Spear Ellinwood currently directs instructional development efforts for the College of Medicine - teaching physicians and science faculty strategies for teaching and how to use technology in classroom and clinical settings. She also conducts education research and assists in developing curriculum for medical students. 
Member, Editorial Board, Reflective Med Ed
Research and Scholarly Interests
Reflective engagement in teaching, learning and clinical practice; metacognitive engagement in clinical problem-solving; development of clinical reasoning and professional identity; formative feedback; how we teach communication of "bad news"; the use of inquiry-based strategies for teaching; use of technology to promote reflective engagement in learning; integration of technology in teaching/learning; self-regulated learning; developmental approach to curriculum development; education and law
Select Publications
Waterbrook A, Spear Ellinwood K, Pritchard TG, Bertels K, Johnson AC, Min A & Stoneking LR. Shadowing Emergency Medicine Residents by Medical Education Specialists to Provide Feedback on Non-Medical Knowledge Based ACGME Sub-Competencies. Advances in Medical Education and Practice; Vol. 9; 2018 (accepted).
Spear-Ellinwood K. Teaching and Mentoring Trainees and Junior Faculty: Feedback Strategies to Promote Reflective Practice. Continuing Medical Education, The University of Arizona (3 CME Credits) [enduring materials to be offered online at the Virtual Lecture Hall; 2016.  
Min AA, Spear-Ellinwood KC, Berman Melissa, Nisson P & Rhodes SM. Social Worker Assessment of Emergency Medicine Residents' Skill at Bad News Delivery: A Novel Direct-Observation Milestone Assessment. Internal and Emergency Medicine. Springer; pp. 1-10; 2016.
Reed, Heather MD; Ellinwood, Karen Spear PhD, JD; de Leon, Sonia BS. The Effect of a Front-Loaded Curriculum on Student Preparedness for the Obstetrics and Gynecology Clerkship. Obstetrics & Gynecology: October 2015.
Min A, Grall K, Stoneking L & Spear Ellinwood K. Implementation of the Introductory Clinician Development Series: an optional boot camp for Emergency Medicine interns. Advances in Medical Education and Practice; 2014:5, pp. 275—279.
Stoneking LR, Grall KH, Min A, Dreifuss B, and Spear Ellinwood KC. Role of an Audience Response System in Didactic Attendance and Assessment. Journal of Graduate Medical Education: June 2014, Vol. 6, No. 2, pp. 335-337; 2014.
Martinez GF, Lisse J, Spear-Ellinwood K, Fain M, Vemulapalli T, Szerlip H, Knox KS. Finding a mentor: the complete examination of an online academic matchmaking tool for physician-faculty. Southwest J Pulm Crit Care. 2014;9(6):320-32. doi: http://dx.doi.org/10.13175/swjpcc138-14
Andrade R, Stevens S, Moll LC, & Spear-Ellinwood KC. Establishing ties: HIV prevention through Facilitation: The case of Mujer Sana – Healthy Woman. In C Grant & L Summerfield (Eds.), Humanizing pedagogy through HIV/AIDs Prevention: Transforming Teacher Knowledge. Washington, DC: American Association of Colleges for Teacher Education; 2005.
Related Sources