When:
Thursday, June 4, 2015 - 9:00am
---
iBooks Authors for Mac users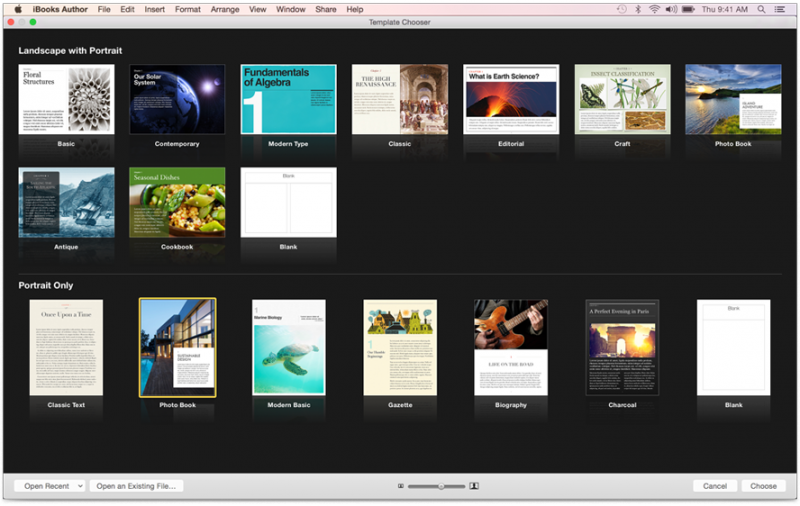 Facilitators: Karen Spear Ellinwood, PhD, JD, Director, FID
Description
This SOS workshop highlights the flexibility of Apple's iBooks Author as a tool for creating and distributing larger documents, such as course materials, clerkship or residency manuals, or interactive learning modules. This workshop emphasizes the features or functionality listed below. Staff will learn how to use iBook Author templates to create an Apple iBook with interactive content, including how to:
Use and modify templates

Embed audio and video files

Insert interactive modules

Create review questions with interactive assessment

Create interactive widgets using Bookery.com

Manage the table of contents

Create an index and glossary entries connected to the text
Device/Apps Required 
NOTE: Apple's iBooks Author works only with Mac iOS. 
Device - Please bring a Macbook or Macair or other type of Mac laptop.

Preparation - Please bring ideas or content for practicing using the iBooks Author application. This could be a syllabus, clerkship manual, or other material.
Related Resources
A note about SOS Workshops
The Support for Office Staff (SOS) workshop series is not a certified skills program, such as is offered by The University of Arizona through its professional development courses in information technology and the IT Academy for Microsoft® Products as part of its software licensing benefits (see Related Resources below). The SOS workshop series is aimed at assisting OMSE staff as well as clerkship and elective/selective coordinators in further developing skills in using office applications, such as Microsoft® Office  Word, Excel, Project, Visio, and PowerPoint and Adobe Pro, in ways targeted to support the medical education program. Some workshops may offer opportunities to learn new software.The primary facilitator for these workshops will be Karen Spear Ellinwood, PhD, JD, OMSE Faculty instructional development. AHSC BioCommunications staff may provide additional assistance or source materials.